Your secrets are  all well-known only to one: your Creator! 😉
That was all enjoyable until the food was brought to the table and just after five minutes of setting the dishes on the table, that waitress started popping up like a bee every few minutes asking if everything was okay.
The restaurant was not crowded at all, so there was no need for pushing you out. Maybe she didn't mean that, but that's what you thought. Then she came while you both were still eating saying that her shift was ended and she wondered if you could use that electronic tablet in payment. Each table had the same tablet and you were aware of that. But it was not about the payment.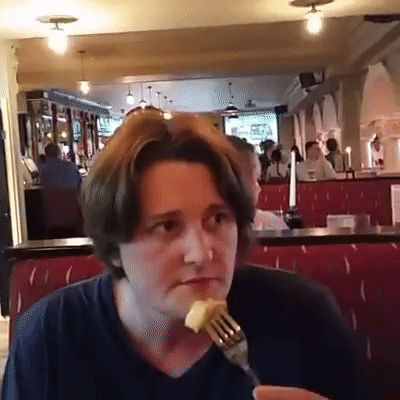 After almost twenty minutes, when you were done, you accessed the tablet to pay for your dinner, and for your surprise, your bill ended by tips percentage which was set at 50%. That was crazy bc you didn't want to leave one penny for her. She was a disaster in your night. She was annoying and disruptive during your whole meal.
That waitress was still standing there waiving goodbye to you while you were processing the payment, which meant that her shift was still on and that she lied to you when she interrupted your conversation. You asked your friend how he felt about that waitress. He said that she was the most antagonizing he ever saw.
You could have left a very generous tips had she didn't do all that fuss for you to leave, but now fifty percent of your order, that was crazy.. What a pity! 🙄
Tomorrow your movie recommendation for your weekend.
Until we talk again, try to catch, up with
the inspiration
you've missed, with our hugs and kisses ❤
Always welcome back to your pages great friends from the US, Canada, Australia, the UK, Japan, Nigeria, Finland, India,, Chile, Latvia, Malaysia, Thailand, Netherlands, Malaysia, India, Latvia, Denmark, South Africa, Germany, Philippines, Kenya, South Korea, Mexico, Uruguay, Poland, Vietnam,  Bosnia & Herzegovina, France, Spain, Portugal, Sri Lanka, Brazil, Italy,  Estonia, Bulgaria, Indonesia, Canada, Egypt,

Argentina,

Serbia,

Israel,

Belgium, Cameroon, Martinique, Russia,  Greece, Bangladesh,  South Africa, Kyrgyzstan,   Mexico,  Spain, Slovenia,  Turkey, Japan, Kazakhstan, , Poland, Ireland,  Nepal, Panama,  Chile,  Finland,  Bosnia & Herzegovina, Jamaica, Ecuador, Kuwait,  Croatia, Romania,  the UAE, Netherlands,  Uruguay, Pakistan, Czech Republic, Thailand, Bolivia, Trinidad &  Tobago, Vietnam,  Paraguay, Switzerland, Saudi Arabia,  Hong Kong, Norway,  Hungary, Latvia,  Puerto Rico,  Sweden,  Singapore,  Denmark, Georgia, Taiwan, Pakistan, Austria, Uzbekistan, Bahrain, Thailand, Cyprus,  Qatar, 

Tanzania,  Ukraine, Colombia,  South Korea, New Zealand,  Iraq, Costa

Rica, Mauri

tius, American Samoa, Congo- Kinshasa,  El Salvador,  Réunion, Nepal,  Belarus,  Cambodia, Slovakia, Luxembourg, and all!

😉