Even when you are smart, you might mistakenly misunderstand! 😉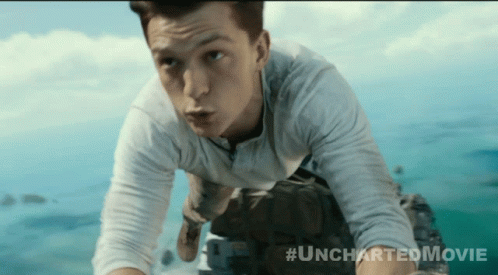 The movie's main idea is a treasure search, and all kinds of action movie to entertain the searchers and the viewers.

"Uncharted" is released in 2022 Treasure hunter Victor "Sully" Sullivan recruits street-smart Nathan Drake to help him recover a 500-year-old lost fortune amassed by explorer Ferdinand Magellan. What starts out as a heist soon…
You might feel the same atmosphere of "The National Treasure" movie. If you liked it, there is a good chance that you will like this one too.
Uncharted in a family movie, and if you didn't watch it yet, it is time to do it, what do you think? 🙄
Always welcome to your pages great friends from
the US, the UK, Australia,
Russia, 
Canada, Japan, India, Nigeria, Finland, Chile, Latvia, Malaysia, Thailand, Netherlands, Malaysia, India, Latvia, Denmark, South Africa, Germany, Philippines, Kenya, South Korea, Mexico, Uruguay, Poland, Vietnam,  Bosnia & Herzegovina, France, Spain, Portugal, Sri Lanka, Brazil, Italy,  Estonia, Bulgaria, Indonesia, Canada, Egypt, Argentina, Serbia, Israel, Belgium, Cameroon, Martinique,  Greece, Bangladesh,  South Africa, Kyrgyzstan,   Mexico,  Spain, Slovenia,  Turkey, Japan, Kazakhstan, , Poland, Ireland,  Nepal, Panama,  Chile,  Finland,  Bosnia & Herzegovina, Jamaica, Ecuador, Kuwait,  Croatia, Romania,  the UAE, Netherlands,  Uruguay, Pakistan, Czech Republic, Thailand, Bolivia, Trinidad &  Tobago, Vietnam, Paraguay, Switzerland, Saudi Arabia,  Hong Kong, Norway,  Hungary, Latvia,  Puerto Rico,  Sweden,  Singapore,  Denmark, Georgia, Taiwan, Pakistan, Austria, Uzbekistan, Bahrain, Thailand, Cyprus,  Qatar, Tanzania,  Ukrain

e, Colombia,  South Korea,

New Zealand,  Iraq, Costa Rica, Mauritius, American Samoa, Congo- Kinshasa,  El Salvador,  

R

éunion, Nepal,  Belarus,  Cambodia, Slovakia, Luxembourg, and all!

 
Until we chat again, we'd like to hear from you, with our hugs and kisses ❤