Hello and welcome to our pages. Thank you for being here friends and readers from everywhere; especially
the US, Canada, Mexico, Turkey, Ireland, Philippines, Norway, Vietnam, Poland, & The UK 

😉

My dear 1Zumba friend, it's heavily raining here, how about your city, is it raining too? 😉

Ghazal, one of our dear followers and fans, sent a question, which seemed easy, but in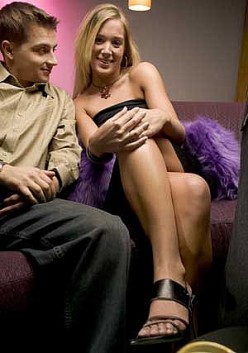 fact it never is. She told us a story about herself and her friend, Mia, ending it by asking, why men were more interested in her crazy friend rather than in herself (who happened to be a wise polite person).
Gina, one of my students reacted immediately: "Men are always drawn to crazy girls. This is normal, and known for everyone". "If it is known, the question was why", I said.
Adam, another student, looked at Gina, saying while smiling: "Plenty of reasons, but the most important one, is that they are not boring. When a guy goes out with a crazy chick, he knows that he would spend a good time. And he is ready for an adventure."

Adventurous: When a guy hooks up with a crazy girl, he
knows he's in for the ride of his life. She'll always be suggesting random adventures, and she'll never want to sit at home watching television. She craves adventure at all costs. No boredom. They know exactly what to do to keep things interesting.
So it's about the unknown pattern. It's kind of an exploration process for him, coz crazy girls can do
unexpected things, so 'the guy' in his mind, he would feel he was taking some kind of risk being with that girl, who would surprise him, with anything, even she might throw a chair to his head!

Men love to be heroes. They love to "fix" things. It makes them feel
needed, important, and feeds the male ego. Who else would make the top right example to give them this? Crazy girls!
Part of the reason Marilyn Monroe was a bombshell was because she appeared to be confident of her own sexual appeal. She was crazy in a way, not all the time though. Not too many people saw her as a smart girl, but I think she was.
Nuts girls live for the extremes and no mountain too high or river too deep can come in
their way. And much like everything else, they love with an equal passion. They always give their all and never settle for less.
If you're lucky enough to ever date someone this amazing, everything we say here would make a complete sense to you. How many times have you met a guy who described his ex-girlfriend as "crazy"?  It could be that they're either exaggerating about her craziness.
Guys immediately assume if a girl is crazy out in public, she'll be even crazier in the sack. Men are driven by the desire to bed as many women as possible, but once they find a crazy girl, they realize she's the only girl they need.
Men are natural problem solvers. They always want to fix things whether it be the engine in their '85 Chevy, or the crazy girl who just can't get her life together. However, attempting to tame the crazy girl is almost impossible, and every guy she comes in contact with wants to be the one to win her heart.

Story-Teller: When dating a crazy girl, she always has a wild
story to tell, she would tell you about a time she got arrested for skinny dipping while her college water polo team was practicing, or the time she hitchhiked on a whim and ended up in Roswell, New Mexico. Guys love hearing about these crazy adventures, and they can't help but secretly wish she will ask him to join in on her next adventure.
While most girls are looking for someone they can grow old with, the crazy girl is the complete opposite. She isn't too concerned about the future, and you'll never hear her ask any traditional question for their relationship!
Surprising: Surprises can be a good or a bad thing when it comes to dating a crazy girl. For most guys, they love a woman who will constantly surprise them inside and outside of the bedroom. The crazy girl may constantly change her appearance which gives guys a thrill. One week she's blonde, the next week she has a buzz cut, you just never know what to expect with a crazy chick!
Men love crazy chicks, may be, because it makes them feel better about themselves. Having a girlfriend with problems makes some guys have a better outlook about their own lives. When they feel the pressures of their job and personal life start to bring them down, they realize the crazy chick has it much worse.
Forgiving: Crazy girls are always screwing up in some way, so they know what it feels like to have to ask for forgiveness. They understand the need to forgive and forget. Men will feel at ease with them for this.
There is plenty to be said about lunatic gals, they can do anything any time. No surprise
to find them dancing in the Bart to the music, or getting up on a table in a decent restaurant. They can ask you anything, they are shameless; nevertheless, they grab your attention more than any other ones. And they seem appealing for their strength in facing the society. They don't care about what you would see in them.
Ghazal, we gave you all the comments and reactions we had from our readers and friends, and probably, you would find it overwhelming, but the truth is nobody knows exactly, what's going on inside the brain of each of us. One day, and may be soon, you will find the right guy, who would appreciate your wisdom and politeness. Believe me, there are plenty out there for you 🙂
Remember to send your comments, questions, or recommendations. It pleases us to hear from you all the time.
Now, we earned a break, I guess. Until we talk some more, here's our kisses and hugs ❤