Your mother is your absolute trust! 😉
Thank you for coming to our page. Readers and friends every where, welcome to our new edition; especially for our new ones from
the US, the UK, Canada, India, Mexico, Ireland, Serbia, Germany, Italy, n Croatia

😉

Our dear 1Zumba friend, it's still raining, although it's a bit slower than yesterday.
Rains always remind me of "Singing in the Rain", and how Gene Kelly slid spirally around the light pole. I always mistaken it to "Dancing in the Rain" as a title instead. 🙂
One of the things that I like a lot, and others might have the same love for it, is critiquing movies. When I watch a movie, I like to see things beyond the story.
Sometimes, I imagine myself, while sitting in the movie theater, as if walking with the camera-person, and imagine how s/he took that shot, from that angle. Things of that nature made me feel a bit excited.
Nanny, a student of silent films, said that she studied the history of films, and that she believed that people had developed a sense of what a good movie was, over the last 10 years.
UC Berkeley introduced an innovative undergraduate
program, which leads to getting a BA degree in film. It makes sense to realize how important movies and plays in our lives, and how deep they affect our communities.
Lately, Sam, 1Zumba friend, and I watched a movie called "Big Eyes", which is based on a true story. Many reviews were written about it:
"Big Eyes re-teams Burton with screenwriters Scott Alexander and Larry Karaszewski.
The new film tells the strange but true story of Margaret Keane (Amy Adams), a divorcee who arrives with her young daughter in San Francisco in the late 1950s.
She's a bit of a mystery – women simply didn't just up and leave their husbands back then – but she takes great pride in her paintings. Her work, at first mostly portraits of her daughter, takes the cute but sad form of waif-like children with dark, enormous eyes."
The way Amy Adams (Margaret) played her role in that movie was very spectacular, and she made you dislike that weak female character, to an extent that, you might feel like jumping up right out of your seat, and  shaking that lady's head, trying to wake her up,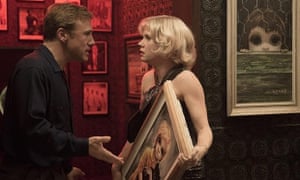 of her fears.
In the meantime, Keane (Christoph Waltz), was extraordinary complex personality, with cunning and vicious intentions all the way, but Margaret couldn't see it at the beginning, coz he was like a snake, just sneaking slowly to pry.
He knew how valuable her talent was, and he was excellent in marketing and promoting it, but he didn't stop at that point, he wanted more!
I would recommend this movie for you. It's under-rated in my opinion.
Always welcome back to your pages great friends from the US, Canada, Australia, the UK, Japan, Nigeria, Finland, India,, Chile, Latvia, Malaysia, Thailand, Netherlands, Malaysia, India, Latvia, Denmark, South Africa, Germany, Philippines, Kenya, South Korea, Mexico, Uruguay, Poland, Vietnam,  Bosnia & Herzegovina, France, Spain, Portugal, Sri Lanka, Brazil, Italy,  Estonia, Bulgaria, Indonesia, Canada, Egypt,

Argentina,

Serbia,

Israel,

Belgium, Cameroon, Martinique, Russia,  Greece, Bangladesh,  South Africa, Kyrgyzstan,   Mexico,  Spain, Slovenia,  Turkey, Japan, Kazakhstan, , Poland, Ireland,  Nepal, Panama,  Chile,  Finland,  Bosnia & Herzegovina, Jamaica, Ecuador, Kuwait,  Croatia, Romania,  the UAE, Netherlands,  Uruguay, Pakistan, Czech Republic, Thailand, Bolivia, Trinidad &  Tobago, Vietnam,  Paraguay, Switzerland, Saudi Arabia,  Hong Kong, Norway,  Hungary, Latvia,  Puerto Rico,  Sweden,  Singapore,  Denmark, Georgia, Taiwan, Pakistan, Austria, Uzbekistan, Bahrain, Thailand, Cyprus,  Qatar,

 

Tanzania,  Ukraine, Colombia,  South Korea, New Zealand,  Iraq, Costa

Rica, Mauri

tius, American Samoa, Congo- Kinshasa,  El Salvador

, 

Réunion, Nepal,  Belarus,  Cambodia, Slovakia, Luxembourg, and all! 😉
Our hugs & kisses for all of you. Keep reading and catching up with what you've missed, my 1Zumba big eyes. ❤