Sometimes saying yes should be studied first! 😉
Wintertime is always good to be spent in warm areas or cities. Lately, your friend visited AZ or Phoenix, Arizona to be more specific. He was amazed of the higher building activities. He loved the sunny weather, and he thought of moving there.
To his surprise, there were continuous winter festivals in many cities.
Planning for your visit is very important as you know that unless you decide to stay there permanently.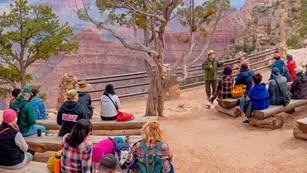 Every place he visited, he took a ton of pictures to show it to his friends and family. Grand Canyon Park was one of the nice places he visited too. He praised the nature and the weather repeatedly saying: "You don't know what I am talking about until you see it with your own eyes."
Incredibly, he had a sunrise balloon ride in another area of AZ. In addition, almost everywhere he went, he found well-organized programs for visitors from all ages, and endless activities that might keep you busy for life with plenty of adventures and joy.
Your next step is to think about it before the winter is gone since AZ is very hot in Summer. Sometimes it could pass the 120º F which is really high.
Until we chat again, smile and enjoy some of the nice winter places, with our hugs and kisses ❤