How proud we are having all of you with us everyday, we can't tell you 🙂 Thank you for

the US, New Zealand, n Denmark 😉
The first simple rule for all people who have cardiac issues, no salt!
Low sodium, low fat, low cholesterol are the second rule. This is our answer for Peter, a dear 1Zumba friend, who asked for more posts about healthy food specially for heart patients.
Stick with fresh beef, skinless poultry or fish. Whole grains: brown rice, whole-grain pasta or quinoa, are good  to your meal. Enjoy freshly steamed vegetables such as carrots, broccoli or asparagus as healthy side dishes. If you like milk with your dinner, choose skim to reduce your fat intake. 
If you like sandwiches for lunch, choose whole-grain bread, although to stay away from bread as much as you can is better.  Low-sodium luncheon meat and
vegetables such as lettuce, tomato and red onion can be used for toppings. Salads are another option.  Or you can have lean chicken and your favorite fruits and veggies. Avoid salad dressing.
Natural fresh products are recommended, artificial flavors, some unknown ingredients are not encouraged, because you have to be very careful and picky when you want to keep your heart healthy.
On the top of the list of heart's food is:
. Fish high in omega-3s, such as salmon, tuna, mackerel, herring and trout.
. Almonds, walnuts, or nuts in general (without salt, and not roasted in salt, even if it was a sea-salt) will satisfy your hunger and help your heart. Just about three spoons of nuts is adequate quantity. 
. All berries: blueberries, strawberries, cranberries or raspberries in cereal or yogurt. It full of heart-healthy phytonutrients and soluble fiber.
. Fresh broccoli florets dipped in hummus are a terrific heart-healthy snack with a
whopping list of nutrients, including vitamins C and E, potassium, n calcium and fiber.
. Dark chocolate, at least 70 percent cocoa is good for your heart.
.
Sweet asparagus is filled with mighty nutrients such as beta-carotene and fiber, and only provide 25 calories per cup, or 5 calories per large spear.
. A 4-ounce glass of red wine (up to two for men and one for
women per day) can help improve good (HDL) cholesterol levels.
Remember one important truth here, when you eat, you do not have to eat until you feel completely full and unable to breathe. This not good at all for your heart. You'd better go on an empty stomach rather than doing this. 
Your heart is a delicate part of your body. It needs special attention. You don't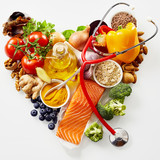 have to be a patient in order to take good care of your heart. Prevention is your best defense.
There is more good food for your heart, we will talk about it the next time.
Give us your hugs and  kisses ❤
References:
. Diet for cardio.
. Save Your Heart.
. Heart Recipes.