It is amazing how far a simple nice compliment could take you! 😉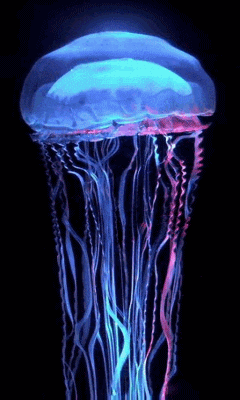 Just for the sake of reminding you of your previous discussion about some history regarding the jellyfish life cycle discovery:
In 1988, Christian Sommer, a young German marine biologist on vacation in Italy, stumbled upon a peculiar trait in a known species of jellyfish. Instead of always growing older, Turritopsis dohrnii could seemingly reverse time until it reached the youngest stage of its development and began aging ….more
If you've been to Monterey Aquarium, you must have seen the jellyfish and how it moves in the water very peacefully and elegantly, but the part of reversing its life and become young again, you couldn't see it bc it takes place in the very bottom of the ocean.
But perhaps some water robots or drones could video how this box jellyfish transformational fact happens. So far there has been very little pictures or clips about this specific moments in the life of the Jellyfish (Box).
Science continues to study that life reversal phenomenon but so far you didn't see any real application for it, although there have been many promises that it could change the life span of humans.
But how soon this could happen, nobody knows. Just be patient it takes years to understand and discover. Then application comes with its risks.
Until we chat again, make sure that you catch up with what you've missed, with our hugs and kisses 😉
Always welcome back to your pages great friends from the US, Canada, Australia, the UK, Japan, Nigeria, Finland, India,, Chile, Latvia, Malaysia, Thailand, Netherlands, Malaysia, India, Latvia, Denmark, South Africa, Germany, Philippines, Kenya, South Korea, Mexico, Uruguay, Poland, Vietnam,  Bosnia & Herzegovina, France, Spain, Portugal, Sri Lanka, Brazil, Italy,  Estonia, Bulgaria, Indonesia, Canada, Egypt,

Argentina,

Serbia,

Israel,

Belgium, Cameroon, Martinique, Russia,  Greece, Bangladesh,  South Africa, Kyrgyzstan,   Mexico,  Spain, Slovenia,  Turkey, Japan, Kazakhstan, , Poland, Ireland,  Nepal, Panama,  Chile,  Finland,  Bosnia & Herzegovina, Jamaica, Ecuador, Kuwait,  Croatia, Romania,  the UAE, Netherlands,  Uruguay, Pakistan, Czech Republic, Thailand, Bolivia, Trinidad &  Tobago, Vietnam,  Paraguay, Switzerland, Saudi Arabia,  Hong Kong, Norway,  Hungary, Latvia,  Puerto Rico,  Sweden,  Singapore,  Denmark, Georgia, Taiwan, Pakistan, Austria, Uzbekistan, Bahrain, Thailand, Cyprus,  Qatar,

 

Tanzania,  Ukraine, Colombia,  South Korea, New Zealand,  Iraq, Costa Rica, Mauri

tius, American Samoa, Congo- Kinshasa,  El Salvador,  Réunion, Nepal,  Belarus,  Cambodia, Slovakia, Luxembourg, and all!