Congratulate yourself, you have it all! 😉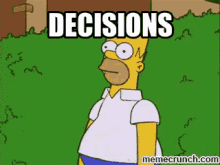 Decisions are: —————————-
. Hard . Daily . Continuous . Necessary. Nasty (sometimes) . Enjoyable when fruitful
. Unappreciated (depending on the situation) . Joyful when blessed
Effective executives do not make a great many decisions. They concentrate on what is important. They try to make — more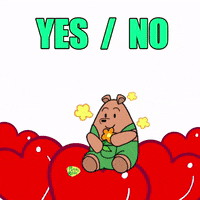 In business, there is some sequential steps that are used to come up with the most rightful decision: Classifying the problem, definition for the problem, the solution, how to make the decision active, testing the decision, and taking the action.
How about in life? How do you take your decisions? Sure, there is a similarity coz both are made by human beings not by robots. Maybe it all depends on your speed of thinking. If you are one of these quick thinkers, you can easily take quick decision, but is it the only thing that counts is speed?
Of course not. When you are a physician and you have a patient who needs a surgery, you need to immediately refer him to a surgeon. These are decisions related to your work, how about when you are home, how do you feel about it?
Truthfully, sometimes decisions are dull, hard, tiring, exhausting, or unnecessary. Whatever they are, at some point you decide if you will do this or that. If you made a good decision (which could be yes or no), it wouldn't bother you again, you'd automatically default to that decision. On the other hand, if you disliked your decision, you'll keep repeating all the odds to know what caused the failure of that decision.
Always welcome back to your pages great friends from
the US,

the UK,

Canada, Australia, Japan, Nigeria, Finland, India,, Chile, Latvia, Malaysia, Thailand, Netherlands, Malaysia, India, Latvia, Denmark, South Africa, Germany, Philippines, Kenya, South Korea, Mexico, Uruguay, Poland, Vietnam, Bosnia & Herzegovina, France, Spain, Portugal, Sri Lanka, Brazil, Italy, Estonia, Bulgaria, Indonesia, Canada, Egypt, Argentina, Serbia, Israel, Belgium, Cameroon, Martinique, Russia, Greece, Bangladesh, South Africa, Kyrgyzstan, Mexico

,

Spain, Slovenia,

Turkey, Japan, Kazakhstan, , Poland, Ireland, Nepal, Panama, Chile,

Finland,

Bosnia

& Herzegovina, Jamaica, Ecuador, Kuwait, Croatia, Romania, the UAE, Netherlands, Uruguay, Pakistan, Czech Republic, Thailand, Bolivia, Trinidad & Tobago, Vietnam

,

Paraguay, Switzerland, Saudi Arabia, Hong Kong, Norway, Hungary, Latvia, Puerto Rico,

S

weden, Singapore, Denmark, Georgia, Taiwan, Pakistan, Austria, Uzbekistan, Bahrain, Thailand, Cyprus, Qatar,

Tanzania, Ukraine, Colombia, South Korea, New Zealand, Iraq,

Costa Rica, Mauri

tius, American Samoa, Congo- Kinshasa, El Salvador, Réunion, Nepal, Belarus, Cambodia, Slovakia, Luxembourg, and all!
Until we chat again, get your inspiration everyday, with our hugs, & kisses

❤